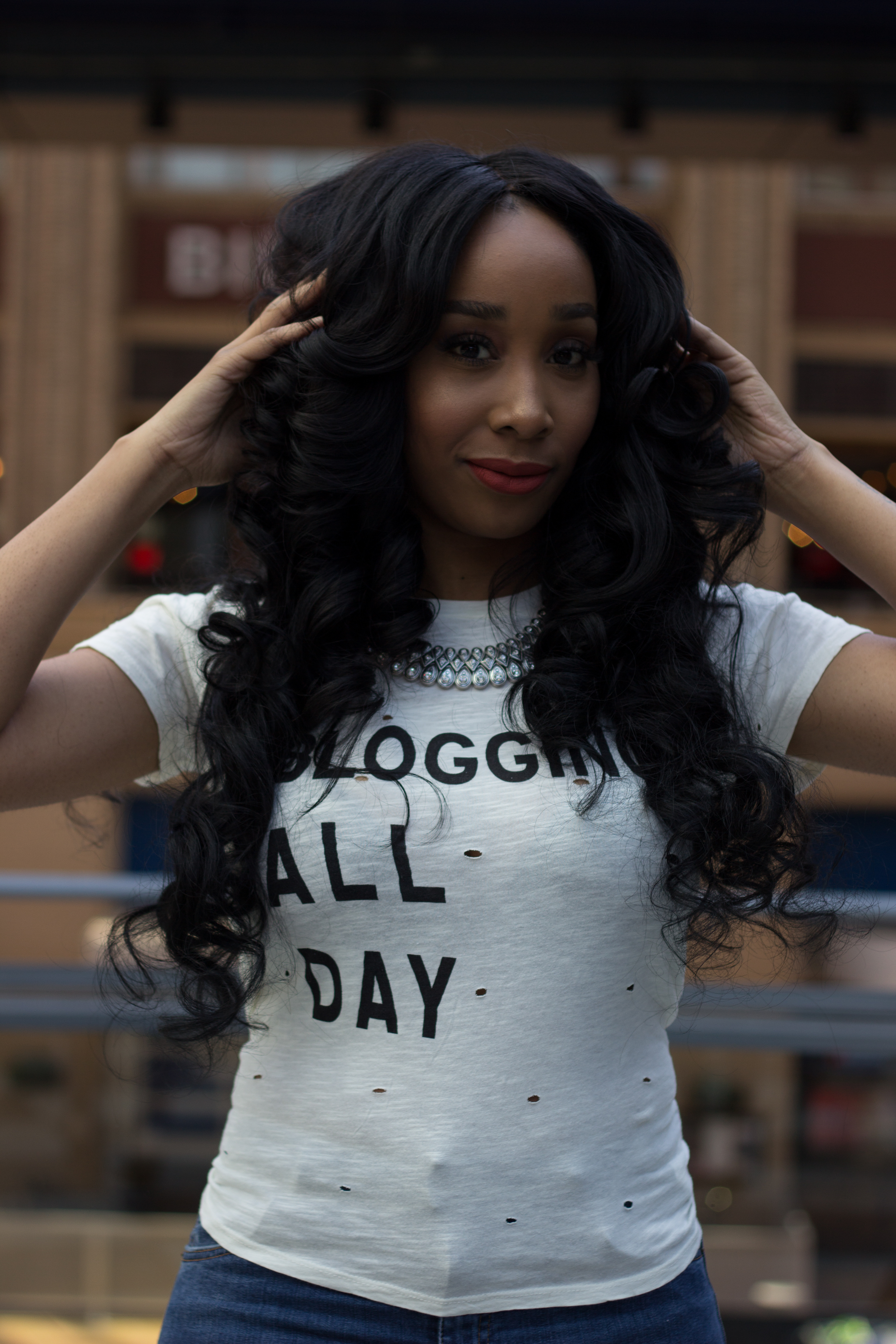 Being told as a young girl "A woman's hair is her glory" sticks with you for life and gives you a sense of pride. Most women can attest when their hair is done up, they feel like Beyonce'. Or at least I do ! LOL. I've always been very particular with my hair and the overall health of it. I've been pressed (in modern day terms "natural") relaxed, I've transitioned, and now the current state of my hair is "natural."
I receive many questions about my hair such as the things that I do to retain my natural length, how do I deal with my natural hair (wash and styling) , Maintenance of my hair extensions, where I purchase my hair extensions etc.
This is a classic staple in my 'Be Your Own Glam Squad series.'  Every woman loves looking their best however, they may not know about the proper resources.
Google is your friend! It is important to know about YOUR hair. Certain products and specific hair styles may not work best for your hair type. For instance , if your hair is chemically treated (relaxed or colored ) it may not be the best option to flat iron your hair all of the time because 1) you're over processing your hair and 2) you risk burning your hair out just to name a few. Too much heat is bad for the health of your hair.
I began wearing hair extensions in 2010. I started wearing extensions because I tried to give myself a relaxer in my college dorm and ended up burning a decent chunk of my hair out of my scalp. I was devastated.
My sister suggested I try a sew- in to give my hair a much needed break. This was a pivotal moment for me in my hair journey. I had this sew in for about 5 months (yes, I was pushing it LOL) and once I took it out it was a miracle! First of all, my hair had grown a lot longer and the spot that I had previously burned out had grown out! It was like the burn had never happened.  I kid you not, I've been wearing a sew- in's since then. This experience also prompted me to begin transitioning into my natural hair journey. Since I was wearing a sew -in frequently, it helped me transition for 2 years until I was ready for my own version of the "big chop."
Needless to say, one bad hair experience inspired me to research everything I needed to know about how to get my hair back to a healthy state. I'm by no means a hair expert, I'd say I'm more of a hair enthusiast. Every woman is responsible for their hair state whether you have to be your own stylist or invest in a professional.
Here's what you need to know about how to take care of your hair in between sew in's and when you're maintaining your sew in.
Maintaining your natural hair (for both relaxed and natural):
1) Get your hair trimmed regularly
*After every sew-in or every other sew-in, I get my ends trimmed to help retain length and it keeps your ends healthy
2) Deep Condition your hair!
*To save some coins, I wash and condition my own hair in between fresh sew in installs. I sit under a hair dry for approximately 30-60 mins.
3) Moisturize, Moisturize, Moisturize.
* Try doing a hot oil treatment while deep conditioning your hair. I've found this to really help my scalp and retain moisture in my hair. * Invest in coconut oil.
Maintaining your hair extensions:
1) WASH and CONDITION your extensions
* As simple as this is, I realize a lot of girls rarely do this step.  You'll want to treat your extensions with as much care as you do the hair that grows out of your scalp.
2) Air dry your extensions
*If you don't make sure your hair underneath your extensions as well as your extensions aren't dry, you run a huge risk of your hair mildewing and molding. Yes, this can happen if you're not being thorough.
3) Keep direct heat to a minimum.
* Try not to keep blow dry, flat-iron and curl your extensions everyday. Like the hair on your hair, too much heat can damage your hair and will appear dry, brittle and unhealthy.  Try pin-curling, or rolling your extensions with rollers to keep body in your hair style.
4) Try not to use as many hair products in your extensions.
* Putting, oils, hair sprays, serums etc. in your extensions can cause a nasty product build up. This cuts your wear time of your extensions in half if you use too much.
5) Seal your wefts!
*A lot of women skip this step , BUT sealing your wefts can cut back on excess hair shedding. Just do it, trust me.
I purchase my hair from Snoblife.com . I've tried different hair companies, and they all serve the same purpose. However, I'm completely sold on this brand and believe it's the best hair out there. I've been investing in this hair for almost 5 years now. My extensions typically last me over a year.
Did you find these tips helpful? How do you maintain your extensions/ natural/relaxed hair? Sound off in the comments below!
[DISPLAY_ULTIMATE_PLUS]