Have you ever wondered what it's like to be a celebrity makeup artist? Well, if you're anything like me, then you're always wondering how makeup artists get their foot into the door of glamming up your favorite celebrity.  I was fortunate enough to run into an established celebrity makeup artist while I was on set in LA assisting on a photo shoot. It felt like the perfect opportunity to ask Celebrity Makeup Artist, Nia Hicks, a few questions about her journey in Hollywood. Of course this was nerve wrecking but Nia welcomed me with warm energy and didn't mind chatting with me.  I always find it helpful when you can talk with people who are excelling in such demanding industries to ask them how they maintain and why they never gave up.
Check out my glam chat below with Nia below:
ILuvBethanni: What's a typical day like for you?
Nia Hicks: It's always different. I'm a freelance artist. So I've never had an agent or represented by anybody. It's a lot of hard work.
… Probably the best advice I ever got was Always Be Ready. My Kit stays ready.
ILB: How long did it take you to fill your kit?
NH: You're always building it. There's always going to be new products… Everyone has an opinion on their favorite product right? But that's their favorite product UNTIL they find new products or until experiences shows you what really, really works.
One thing I've kind of learned is I don't take advice from people who I don't trust what they look like or I want to know how long you've been in the business or I want to see your work before I take your advice. Because my artistry may be different from yours. So just in terms of helping to not spend so much money, you're always spending money. And if you can appreciate someone or if you can assist someone that you would love to that would be beneficial. I just say you gotta do it.
Like, from the moment I knew this is what I was called to do, I told everybody I knew… My philosophy was the first person I tell was not going to remember. The second time I tell the person they'll be like "Oh, Yeah!" The third time I tell that person then they'll remember me.  People never remember you the first time. But when you're persistent you're constantly are like knocking down doors, reaching out to people.
I did a TON of free work when I first started. I did so much free work it's disgusting. But, people should know why they should trust you. I was green, I didn't know anything. So just to be called… like some people feel like they should just go to school, and school is not a bad idea, I just don't think anybody should go to school for 2 or 3 years or even a year. I feel like, not only are they completely overcharging you, but you can't teach somebody how to be an artist. You're either an artist or you're not. You can teach someone the fundamentals of being on set and different kinds of makeup and things like that but you can't teach someone how to be an artist they have to develop their own artistry.
I'm self-taught.
ILB: Who did you look up to or watch or even idolize before you got into this business?
NH: You know what? For me I feel your national esthetic will come into place. You'll have to trust your own voice as to what you gravitate towards. But also you have to kind of look within. It just depends on where you want to go with your career. Do you want to be more in the industry? Then I would be looking more at industry based artists. If you're looking to be more Broadway, stage makeup is totally different from Red Carpet makeup. It's ALL different.
News stations don't really value, their thing is more of looking polished and camera ready and that's a bad description but in Hollywood, it's all about the latest trends, it's about looking flawless. And I think news is more corporate. It's a totally different structure. Like I auditioned for a corporate TV station to do makeup there and I got the job but afterwards, and I mean I still may reach out to them again, but it wasn't me. It was very restrictive.  It was just very robotic.
I don't know if it's the child in me or if it's the lack of respect of authority or whatever. Me and corporate America DO NOT get along. Anything corporate I just don't do. Like I've had jobs and have been like, I don't want to be here anymore and have walked off the set.
ILB: Did you ever regret it?
NH: No, because as an artist you're doing something that doesn't fulfill your need…
Be prepared to be tired all the time. It's a hustle. I think for some people it may be easier to be with an agent but then again it's their clients and… Agencies are really tough right now like unless you're a vet artist or have real high profile clients or been with an agency through the evolution of agencies, it's really tough to get into an agency and have them really value you… A lot of agencies will get you a job here, get you a job there… They expect you to bring your clients to them. And I was thinking I wanna be with an agency… Like I'm with an agency agent that when her clients are in LA I do their makeup but I don't have an LA agent which I go back and forth on if I want one or not.
ILB: So what are your go to products? For Summer and the Fall? What do you reach for most?
NH: For my clients for Summer, it just depends on who I'm doing. I guess I would say for Men, my #1 thing right now is this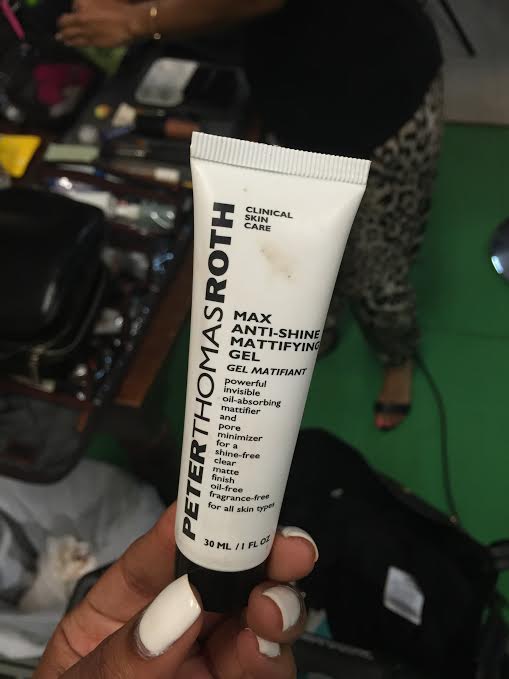 It's crack. That's my go to for men. It's actually back stocked. People can't get it anywhere.
ILB: Where do you get this product from, Naimes?
NH:  Mhmmm… Naimes or Nigels.
ILB: Is this just for men?
NH: No you can use it on anybody. I just use it for my male clients because I don't want to keep having to add more makeup to them…
ILB: What are some of your favorite products to use for yourself? Products that you're loving? For your brows, foundations?
NH: For me some of my favorite products are the Smash Box under eye brightner…
ILB: How do you transition into Fall makeup? What's different from Summer?
NH: Colors! Referencing what's going on with runways.
ILB: Nia if you lost your makeup bag today what products would you go re-up on immediately?  What brushes would you need for your kit? For instance, if you were going to Alfre Woodard's house.
NH: These are really good questions! LOL that would be the most devastating thing so we're not going to speak that into existence. I would need everything. There are a few things I'd probably wouldn't get again essentially I need. I get my brushes from everywhere. I have Sonia Kashuk, Nigel's brushes and just random brushes. I definitely need my beauty blender.
ILB: If you had to buy all drug store products, what brand is your go to? Nyx?
NH: Milani! Milani has some of the best lipsticks and lip liners. I love drug store mascaras. A lot of my mascaras in my kit are from drug stores. I also have Mac ones and YSL.
Some of Nia's celebrity clients include:Bill Rancic, Snoop Dogg, Jason Derulo, and Meagan Good.
Charlotte Mckinney

Charlotte Mckinney Photo: Nia Hicks Instagram

Xenia Deli

Xenia Deli Photo: Nia Hicks Instagram

Natalie La Rose

Natalie La Rose Photo: Nia Hicks Instagram

Lucette Van Beek

Lucette Van Beek Photo: Nia Hicks Instagram

Jason Derulo

JasonDerulo Photo: Nia Hicks Instagram

NAZANIN Mandi

NAZANIN Photo: Nia HIcks Instagram

Meagan Good

Meagan Good Photo: Nia HIcks Instagram

Nia Hicks make up set

Nia Hicks makeup set up

Hailey Baldwin

Hailey Baldwin Photo: Nia Hicks Instagram

Me and Nia Hicks

Me and Nia Hicks
Keep up with Nia Hicks and her journey on Instagram and check out her website Niasjoy.com
Who's your favorite makeup artist?
[DISPLAY_ULTIMATE_PLUS]