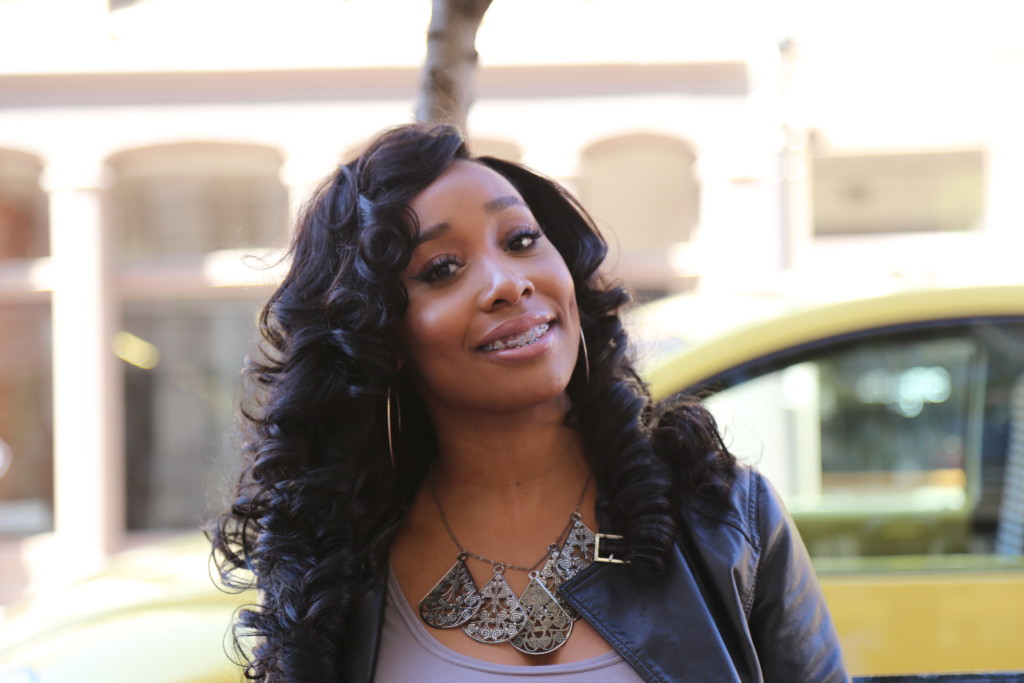 Bethanni sits down for a Q & A interview about how IluvBethanni.com came into fruition
Q: What is a quote that you currently live by? 
A: People don't know what they want to do because they haven't decided who they want to be -Unknown
Wouldn't you agree? I found that quote on Twitter a few years back and wrote it down as motivation. I truly believe the moment you decide who you want to be is the day you know what you're supposed to be doing. 
Q: That's a very unique quote! Where are you from and how did you get started?
A: I'm a girl from Kentucky with BIG California dreams. California has been my dream place to live since I was 9-years-old. That's when I took my first trip to Los Angeles to visit my big sister who had just moved there from Kentucky. Thank God for that trip at such a young age because I would have never known what it was like to see a place with so much ground for me to play on and allow my artistic juices to flow. I even went to Disney Land! That was just the colorful sprinkles on top of the ice cream!  I don't think I had ever felt so alive and so thrilled than in that moment. I went home thinking about this place every day until present day. Everyone around me knew that Cali was the location for me.
Q: When did you get your big break? 
A: I noticed early on my many visits there that in order to maintain longevity in the city of Angels, you had to have some real skills. So instead of pursuing my first love of acting, I went to college. 
I studied Community Communications Leadership Development at the University of Kentucky. Best university in the land with the #1 college Basketball program across the nation! Yes, I am a huge college basketball fan and during March Madness you will see me Bleed Blue cheering on the Wildcats! 
After graduating in 2012, I began my journey in a whole new ride. I was that person thinking once I graduate college I would land a 6 figure paying career. My career had other plans. I had no career.  I quickly learned about how this corporate American Dream works and let's just say I have a love hate relationship with it.
I applied everywhere to find work, and landed my first post graduating gig at Victoria's Secret. I went on to shadow an Entertainment maven and Assignment Desk editor at a local TV station I grew up watching. I was so hesitant to go. I'll let you guys in on a little secret. I hated journalism in college and during my courses in college I hated watching the news!  
Q: I'm sure there are plenty of people who can relate to the life after college struggle.  I know I can. How did you overcome giving up something you really wanted such as acting, versus' the reality of what you were doing at this time?
A: Once my shadow experience was over I felt so discouraged. One, I went in thinking about how much I hated news then I thought about I should've applied myself more in those journalism classes. I smiled and thanked the woman for her time and left thinking I was going to stay at Victoria's Secret with a college degree wasting my time and wasted four years in college. I was going through the worst transition ever!  I didn't know what I was going to do to a gain skill set in that field and at least use my degree. My faith withered and I no longer felt strong in my life after college future. That all changed two months later. I received a tip that the news station I shadowed before was hiring for and entry level Production Assistant position. I had no clue what that meant at the time nor did I care I was desperate and must I mention, nervous! My lack of experience in the field was already a strike against me. I felt like a failure. I had to relearn everything. Boy, was those people annoyed. I caught on quick though and took notes on everything. 
Q: What is your role at the news station now?
A: I am currently responsible for what you see when you open a website. I ensure that the content on websites and social media are optimized for a user experience. I create, edit, and manage the character of websites by finding ways to boost the popularity of the site. Also by increasing user activity. I draw upon skills that help make editorial decisions in websites voices and evaluate the aesthetics of how to display the content then use my tech skills to put that info up for the world to see. I do all of these fun things every day. It's pretty awesome. 
Q: What made you want to start your blog,  ILuvBethanni.com? 
A: I enjoy reading. I also love reading blogs. A blogger whom I've been following for years and who inspires me in this blogging space is, Necole Bitchie or Necole Kane. Necole had a celebrity gossip blog that I'd go to every day for anything celeb related because I knew she gave authentic info about these people and had real relationships with them. She's recently made a transition and changed her whole platform from Necole Bitchie to XONecole and I love what it represents and I love the stories that are told there. I'm like if she can make this transition so can I.
It's been a bumpy ride deciding who I wanted to be and I fought very hard on becoming her. Every day I am reminded that life takes a lot of hard work. The hard work I am referring to is on the inside. My mind state and perception of things had to change. I love women who are completely comfortable in their skin.  I feel that women are totally badass. That's the kind of woman I wanted to be. I learned to become a next level thinker. A newsroom will do that to you! 
Q: What can people find on your blog?
A: On ILuvBethanni.com I will guide the everyday girl – like me- to discover what makes her personal style fierce, confidence beam or everyday life worth living by sharing easy methods or guides that will lead her to know who she wants to be. I love making my own rules to life while wearing the most gorgeous eyelashes. I love everything that goes into making the presentation of style to the world bomb. I love encouraging women around me to get more into themselves. If it doesn't make you love yourself more then there's no purpose for it.
Q: I love that! Women empowerment should be more than just a trend. It should be a movement. Where can your readers stay connected with you?
A: Exactly! That's all I'm here for! My readers can write me on my 'Ask Bethanni' page found on my site as well as subscribing to my blog for future post updates. They can also keep up with me on my social media which are all under the username 'I Luv Bethanni' and my Snap Chat name is I LOVE Bethanni.